I have always wanted to get a brain scan. This might seem like an odd want to some, but I have always been fascinated by this part of the body that controls so much yet we cannot see it. As I have grown older and dealt with my own mental health struggles, I became even more interested in looking at this mysterious part of the body.
When I came across BrainKey's BrainKey Scan, I immediately knew it was something I wanted to do. With so many testing kits on the market that look into each part of the body, it was about time that one came along for the brain. I read about BrainKey's founder and his extensive experience in neurology and his passion for helping people take their health into their own hands.
I quickly signed up at an imaging center in my neighborhood. After choosing a day and time and completing my purchase, I was quickly contacted by the imaging center to confirm my appointment, which was only one week away. They gave me all of the information I needed before going to get my scan.
On the day of my scan, I was excited and a little nervous because I had never had an MRI before. Upon arriving at the imaging center, the staff guided me through the paperwork at a social distance and I waited in the waiting room for less than 5 minutes before being taken back. The MRI technician explained how long I would be in the machine and offered me some headphones for music as well as a blanket to stay warm. After 25 minutes, I was all done and on my way!
A few days later, I received my scan results in my BrainKey dashboard. It was such a fascinating experience seeing my brain for the first time! I explored every section of my brain and got to see how my brain volume compared on an average scale. It also gave me a sense of comfort knowing that some things really are out of my control.
I reviewed my cortical thickness which can help assess risk for neurodegenerative diseases as well as the radiology report that comes with the scan. After exploring my brain in depth, I finished with reading about BrainKey's tips for keeping your brain healthy. They also share some of these on their Instagram, which makes it worth a follow!
Our brain health is so important and BrainKey makes it so easy to check up on it. Without having to go through countless doctor referrals and insurance, BrainKey gives you the option to take your health into your own hands and book your appointment at such an affordable price compared to typical costs. I highly recommend it for yourself or your loved ones who are worried or simply curious about their brain.
I'm already looking forward to getting another scan in the coming years to compare! Until then, I'll continue to explore my brain on the BrainKey dashboard.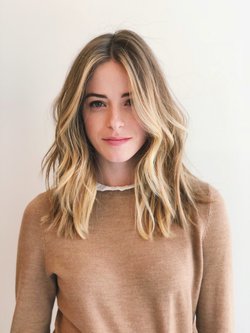 Amelia Thomas is a social impact entrepreneur based in Southern California.